What is a Risograph?
A Risograph printer is a digital stencil duplicator. Think of it as a cross between screen printing and photocopying. The Riso prints one color at a time in bright, vibrant colors. The printer makes a stencil (called a
master
) from a black and white file. The master—a thin, plastic-coated sheet— wraps around a rotating ink cylinder that flows wet pigment through the stencil's perforations and onto paper. One master can be used to make thousands of printed impressions of the same text or image.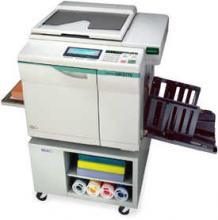 Ink Colors
We currently have 6 ink colors
Black, Bright Red, Blue, Yellow, Flat Gold, and Green. See examples below.
Tactile Finish and Imperfections
The RISO inks produce a unique texture, resulting in a hand-printed and tactile finish. The inks are soy-based and non-toxic, which means they can take longer to dry. The ink sits on the surface of the paper and can therefore be prone to smudging if handled a lot (like newspaper).

All inks are unique to the riso process and colors produced cannot be accurately represented on the web, giving you unique print results. We therefore cannot color match, but can offer advice on how you could work around this.

Riso printing can be an inaccurate and unpredictable print process. The machines were designed to make office copies and not for high precision printing. Imperfect registration, smudging, and uneven coverage are a few of the many quirks that come with this print process.



File Setup
For print, artwork files should be:
Flattened PDF (no layers or transparencies)
Set to Greyscale/B&W
Resolution = 300dpi
Size=Letter (8.5x11), Legal (8.5x14), or Tabloid (11x17)
Each color layer saved as a separate file
Leave a 1/4" margin on 3 sides around your artwork, and at least a 1" margin on the lead edge of the paper. Trying to print ink outside of the printable area will lead to paper jams and unsuccessful prints.
If you have questions regarding file setup, feel free to email us.
Pricing/Quotes
As the complexity of all print jobs varies, we have no rigid price list and we quote based on each job individually.
Quotes are calculated first by the number of colors/stencils used, then with print quantity and paper selection added on the end. Like screen-printing, the initial setup is where most of the production time is spent, and cost-weighted.
Therefore, the most economical jobs are ones that use few colors/stencils but output high quantities, and the more expensive jobs involve many color stencils, at a low print quality.
No run is too small, we can print one-offs!
Please provide us with the following details for a quote: Paper/print size, Number of colors on side A, Number of colors on side B, Number of Copies, and Paper stock.
Paper
65 lb. Text — 80 lb. Cover* is our range of printable cover stock. 65#C works for zine covers and creases well. 80#C is best for art prints and invites.

We can only print on uncoated, recycled or vellum-finish papers. We cannot print on coated or glossy paper, as the soy-based ink rubs right off.

You can bring your own paper to print on or choose from our paper library.
Trimming and Binding Services

We can trim prints for an additional cost with our paper cutter.
For books or zines, we offer saddle stitching, also known as staple bound, as well as perfect binding. In order for a book to be perfect bound, it must be 40 pages minimum, with some flexibility depending on paper stock.
---